This year's Christmas… we want to make it a beautiful one, despite (or because of) everything that's been going on this year. And whether we celebrate Christmas or any other holiday with a few friends or just a small selection of (video calling) family members: we can certainly make it memorable for everyone. (We also highly recommend reading our tips while listening to your favorite Holiday tunes.)
Setting a festive Christmas table will go a long way to setting the right mood. Even if it's just for yourself or a few close friends or relatives, treat yourself to a little luxury. In the US, Thanksgiving precedes Christmas. Other countries may not have that tradition, but we could take some of the Thanksgiving spirit for Christmas as well. Take a moment to think about the good things in your life. Talk about them with others. What are you thankful for? Thinking and talking this over will make you feel more optimistic and it will also make you look out for other things in life to appreciate — such as the wonderful Christmas table you've set up.
Five helpful tips for your festive table setting:
Choose your colors
Specify the 1-3 colors you will use for the table, such as green/red, silver/blue, all-white, or black/white. This will prevent "going wild" buying all kinds of wonderful accessories — stick to your color scheme to set your mood and your ensemble will be more coherent.
Use fresh pine for decoration
No matter what color scheme you've chosen, you can add some fresh pine for its texture and scent.
Replace napkins with tea or dishtowels
They make wonderful replacements, are sturdier and bigger. Bonus: you can wash them afterward and use them again next year, meaning you don't have to throw out paper napkins. Win-win!
Have the plates match – or not at all
All the same, sturdy and durable plates for everyone — or a creative mismatch of different sizes and shapes? Mismatches work well with color schemes that are low in color (i.e. all white or all green). If you've decorated with up to 3 colors, bring some calm to the table by matching your plates and silverware.
Treat yourself to something new
Make it something durable and enjoy it for years to come. Plates, silverware, table runners, bowls… have them match your color scheme and/or theme for the table to dot the i's.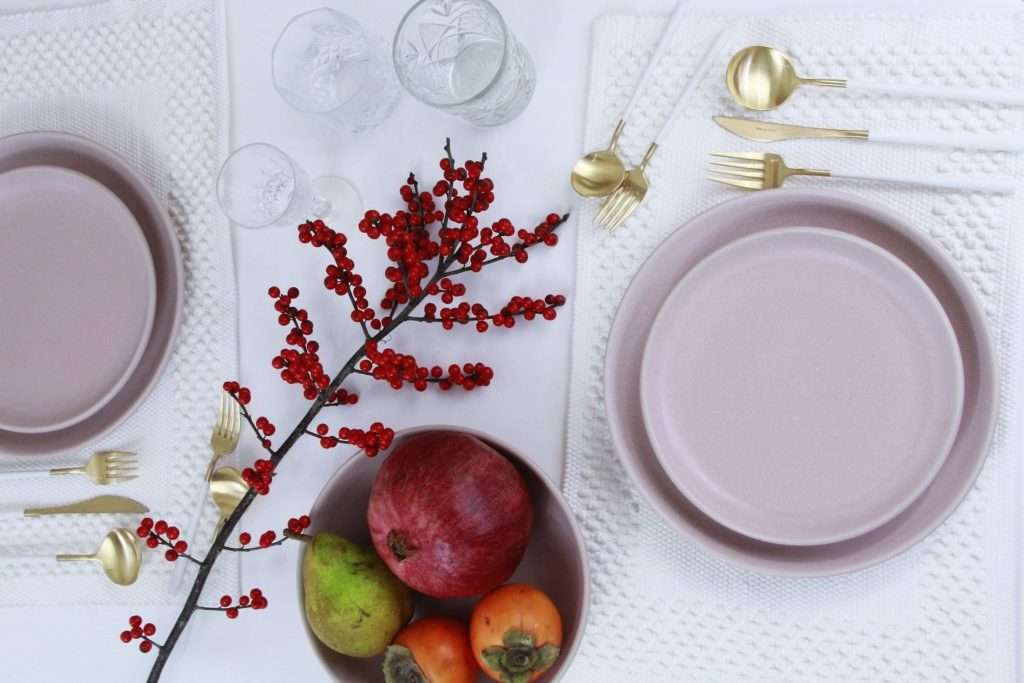 Thoughtful Christmas gifts
Exchanging gifts can be one of the highlights of Christmases. However, we do want to be mindful of the environment.
Take extra care to find something special for your loved ones. We have a wonderful selection of accessories, upcycled home decor, and our special Plan B selection. Want to show someone special you care? Surprise them with a gift from our vintage personal care collection.